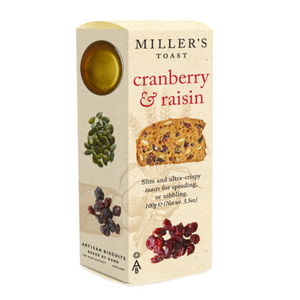 Miller's Toast Cranberry & Raisin 100G
Slim and ultra-crispy (baked twice like biscotti). Made with dried fruits, seeds, honey and 100% extra virgin olive oil. Eat alone or with Yumello!
...Learn more
MORE INFORMATION
Buttermilk, Wheat flour, Dried sweetened cranberries (25%), Pumpkin seeds, Raisins, Soft brown sugar, Honey, Extra virgin olive oil, Raising agent (sodium bicarbonate), Sea salt.
Nutritional information per 100g: Energy 1968KJ, 466Kcal | Fat 10.7g of which saturates 3g | Carbohydrates 79.3g of which sugars 30.4g | Protein 10.2g | Salt 1.2g.
Not suitable for nut allergy sufferers.
Please note: Although we make every effort to ensure this information is correct and accurate, we cannot be held liable in instances where it is incorrect. Always read the label on the product when you receive it, and react to the manufacturers guidelines.