OUR IMPACT
At Yumello, we believe that business can be a force for good. Good for the earth and its people. And we're totally committed to playing an active role.
Here's some of the steps we've been taking:
YUMELLO X THE MAZI PROJECT
The Mazi Project is a Bristol organisation empowering disadvantaged young people through food. They provide consistent access to fresh, nutritious and sustainable food through weekly foodboxes to the disadvantaged, and collaborate with various independent restaurants and businesses across the city to provide the opportunity for young people to learn about the power of cooking.
As we're based in Bristol, we wanted to help make a difference to those in need within the local Bristol community by focusing on wellbeing and providing opportunities to the underprivileged. We donate jars of Yumello to the foodboxes that get distributed to disadvantaged young people in Bristol. We also donate nut butters to cooking classes hosted by The Mazi Project.
We couldn't be more excited to be involved as much as we genuinely can, and be part of a great movement that's not only feeding the young people but supporting local businesses and promoting sustainability in the city.
FIND OUT MORE ABOUT THE MAZI PROJECT
PALM OIL FREE SINCE DAY ONE
Palm oil production is a major cause of deforestation that continues to destroy the habitats of already endangered species, such as the Orangutan, yet this oil is still found in up to 50% of packaged products in UK supermarkets. 
Our products are free from palm oil - always have been, always will be.
FIND OUT MORE ABOUT PALM OIL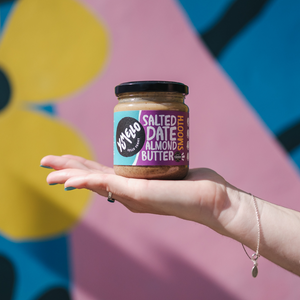 100% RECYCLABLE PACKAGING
The new glass jars are a significant first step in our plans to remove plastic from our packaging.
With this move to glass, we've improved the recyclability of our products, as glass is more widely recycled in the UK. Being sustainable is never a job done and that's why we'll always push ourselves to be better and do better for people and the planet.
So what's next?
1. Become B-Corp certified and use our business as a force for good.
2. Continue to action ways to reduce our carbon emissions throughout our supply chain and business.
We know there is more work we can and will do, and we look forward to sharing our progress with you along the way. We invite you to join us on this journey and welcome your thoughts and ideas.
The Yumello team