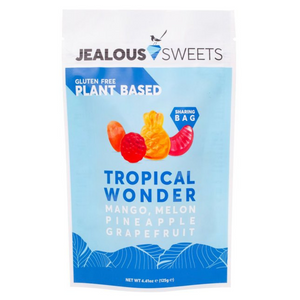 Jealous Tropical Wonder 125G
Taste summer in every bite of Tropical Wonder. Fall in love with its Mango, Pineapple and Grapefruit flavours. It's 100% plant-based, gluten-free, and made with real fruit juices.
...Learn more
MORE INFORMATION
Glucose syrup, sugar, gelling agent: pectin, acidulant: citric acid, natural flavouring of grapefruit with other natural flavourings, natural colours: curcumin, paprika extract, anthocyanins, coconut and rapeseed oil, glazing agent: carnauba wax.
Nutritional information per 100g: (Per 100g): Energy 11,408 kj / 332kcal, Fat 0g, of which saturates 0g, Carbohydrates 82g, of which sugars 70g, Protein 0g, Salt 1g.
N/A
Please note: Although we make every effort to ensure this information is correct and accurate, we cannot be held liable in instances where it is incorrect. Always read the label on the product when you receive it, and react to the manufacturers guidelines.