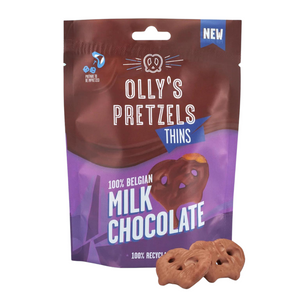 Olly's Salted Milk Chocolate Pretzel 90G
Oven-baked, lightly salted and covered in 100% Belgian milk chocolate coats. Yum.
...Learn more
MORE INFORMATION
Milk Chocolate, Wheat Flour, Water, Sunflower Oil, Sugar, Malt Extract, Salt, Soya Lecithin.
Nutritional information per 100g: Energy 417 kcal / 1744 kJ, Fat 20.6g, -of which Saturates 12.3g, Carbohydrate 50.2g, -of which Sugars 27.8g, Fibre 2.5g, Protein 7.1g, Salt 1.1g.
Contains Barley, May Contain Eggs, Contains Milk, May Contain Nuts, May Contain Peanuts, Contains Soya, Contains Wheat; Manufactured in an environment that handles Nuts, Peanuts, Egg, Milk.
Please note: Although we make every effort to ensure this information is correct and accurate, we cannot be held liable in instances where it is incorrect. Always read the label on the product when you receive it, and react to the manufacturers guidelines.
Store in a cool, dry place. Once opened, use within 3 days and by best before shown.