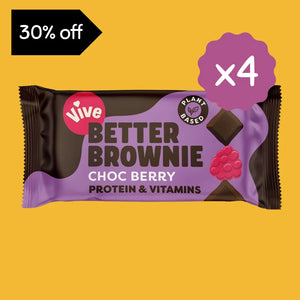 Vive Chocolate Berry Brownie 4 x 35G
A triple berry sensation in the form of a fudgy, decadent and smooth brownie enrobed in rich Belgian chocolate.
...Learn more
MORE INFORMATION
Dates, Cashews, Chocolate (13%) (Cocoa Mass, Sugar, Cocoa Butter, Emulsifier; Soy Lecithin, Natural Vanilla Flavouring), Chicory fibre, Almonds, Pea Protein, Cranberries (4%) (Sugar, Cranberries, Sunflower oil), Concentrated Grape Juice, Rice Starch, Rice Protein, Cocoa Butter, Goji Berries (2%), Cocoa Powder, Emulsifier: Sunflower Lecithin, Raspberries, Salt, Vitamin Mineral Complex, (Vitamin C, Iron, Zinc, Copper, Vitamin B6, Vitamin A, Folic Acid, Sodium Selenite, Vitamin D3, Vitamin B12), Natural Flavouring.
Nutritional information per 35g serving: Energy 613kJ (147 kcal), Fat 7.7g, of which saturates 2.6g, Carbohydrates 12g, of which sugars 9.9g, Protein 5.7g, Salt 0.1g.
Made in a factory that handles peanuts, other nuts, milk and soya.
Please note: Although we make every effort to ensure this information is correct and accurate, we cannot be held liable in instances where it is incorrect. Always read the label on the product when you receive it, and react to the manufacturers guidelines.