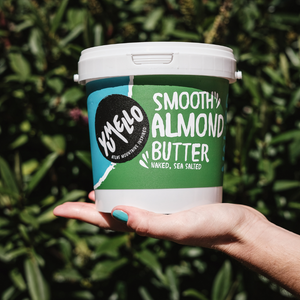 SMOOTH ALMOND BUTTER 1KG
Our Smooth Almond Butter is made using dry-roasted Almonds and a pinch of sea salt. That's it. No additives, no nothing, just pure almond-y goodness.
...Learn more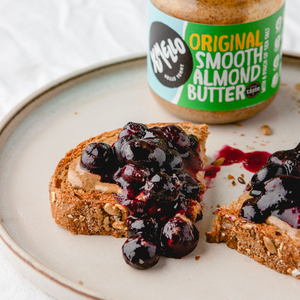 OBVIOUSLY BETTER INGREDIENTS
We've carefully selected just a single type of Californian almonds out of 50+ different varieties.
We are always on the lookout for sources closer to home, but we will only buy the nuts we believe will make the tastiest nut butters!
✔️ No palm oil
✔️ No added sugar
✔️ Plant-based protein
✔️ All natural
✔️ Vegan friendly
✔️ Made in the UK
MORE INFORMATION
Almonds (99.4%), Sea Salt.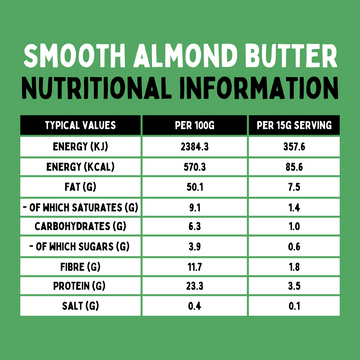 Store in a cool dry place. Once opened, eat within three months. Stir before use as the oils can naturally separate.
Not suitable for other nut, peanut or sesame allergy sufferers.
HOW DO WE MAKE IT SO TASTY?
We're all about being super tasty, using the best possible ingredients and doing things the right way. Like saying no to palm oil and yes to all-natural ingredients.
#1 Obviously better ingredients. Here at Yumello HQ we have a super sourcing policy so only the finest nuts will make it through our front door. And by insisting on the finest nuts, it means we deliver the best tasting nut butters to you.
#2 We take great care and attention to every jar of Yumello we make. We make our nut butters in small batches right here in the UK, which gives it that extra creaminess.
#3 More yum for your tum. Our nut butter tastes so good the Great Taste Awards judges fell in love with Yumello and gave us a Great Taste Producer award – they're only human.
Yum!
The best almond butter. You nailed it Yumello 😋
Delicious
Makes a lovely change from my usual peanut butter
The best nut butter
I really love this nut butter. It's great in smoothies, In yogurt and on toast or for dipping apple in. I would definitely recommend it.
SPREAD, DOLLOP, DIP, DIVE IN.
Our Almond Butter is good on literally, everything. Slather it on toast and pancakes, add it to your cake mix or jazz up your morning porridge... basically bathe in it.
Check out our recipe section for loads of almond butter recipe ideas.
TAKE ME THERE
Tahini dressing
Our favourite way to use tahini? THIS tahini dressing.  This easy 5-ingredient dressing is perfect for salads, bowls...