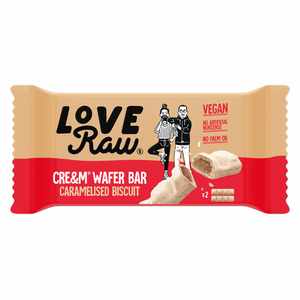 LoveRaw Caramelised Biscuit Cre&M Filled Wafer Bar 45G
A delicious crispy wafer, filled with a plant-based caramelised biscuit cream and covered in a mouthwatering caramel coating. Finished off with a crunchy biscuit crumb.
...Learn more
MORE INFORMATION
Cookie Cinnamon Caramel 38% [Wheat Flour, Vegetable Fat (Shea), Brown Cane Sugar, Sugar, Potato Starch, Glucose and Fructose Syrup, Raising Agents (Ammonium Hydrogen Carbonate, Sodium Bicarbonate and Diphosphate), Corn Starch, Emulsifier (Soya Lecithin), Cinnamon Powder (0.4%), Salt, Sunflower Oil, Wheat Fibre, Deffated Cocoa Powder, Caramel Sugar Syrup (0.1%), Natural Flavouring], Sugar, Vegetable Fat (Coconut Oil, Cocoa Butter), Vegetable Oils (Sunflower, Rapeseed, Soya) Dried Glucose Syrup, Emulsifier (Sunflower Lecithin), Natural Flavouring.
Nutritional information per 22.5g serving: Energy 536kj (128kcal), Fat 8.1g, of which saturates 4.2g, Carbohydrates 13g, of which sugars 7.7g, Protein 0.5g, Salt 0.05g.
May also contain traces of milk, egg, soya, sulphites, sesame, cereals containing gluten, peanuts and other nuts. The Cre&m® Wafer Bar does contain gluten so is not suitable for those who suffer with an intolerance or allergy.Not suitable for allergy sufferers.
Please note: Although we make every effort to ensure this information is correct and accurate, we cannot be held liable in instances where it is incorrect. Always read the label on the product when you receive it, and react to the manufacturers guidelines.