GIVEAWAY TIME!
In honour of Sourdough September, we've teamed up with our friends at Hobbs House Bakery to give you the chance to win a Sourdough baking kit in addition to Yumello nut butter to drizzle over your morning toast.
We all know that Hobbs House Bakery make incredible sourdough, but maybe there are some star sourdough bakers amongst us too?
What's up for grabs?
👉 Hobbs House Bakery sourdough baking kit complete with everything you need to start your sourdough journey. 
👉 A £50 gift voucher to spend at yumello.com across our range of delicious nut butters.
Make sure you've entered before midnight on September 23rd, to be in with a chance of winning. T&C's apply.
By entering this competition you are agreeing to receive marketing emails from Hobbs House Bakery and Yumello. You may opt out at any time.
Read full competition terms & conditions here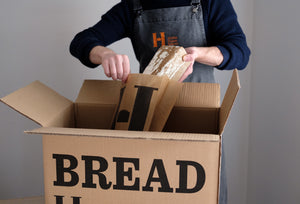 HOBBS HOUSE BAKERY
The team at Hobbs House Bakery believe there are some things you can't rush. Like us, all their bread and confectionery is made with true care and attention.
Their not-so-secret weapon is their 66 year old Sourdough Starter which they've been nourishing with flour and water every day for all of these years. 
In return their little Starter has helped them create countless true sourdough loaves and been shared with home bakers all over the country.
LEARN MORE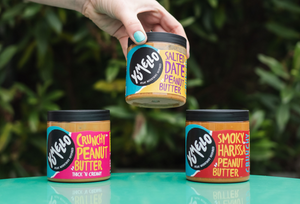 YUMELLO
We take great care and attention to every jar of Yumello we make. We're all about being super tasty, using the best possible ingredients and doing things the right way. Like saying no to palm oil and yes to all-natural ingredients. Say hello, Yumello
#1 Here at Yumello HQ we have a super sourcing policy so only the finest nuts will make it through our front door. And by insisting on the finest nuts, it means we deliver the best tasting nut butters to you.
#2 We make our nut butters in small batches here in the UK. This is what gives Yumello its better taste and texture.
#3 Our nut butter tastes so good that we caught the attention of The Great Taste Awards who gave us a Great Taste Producer award and everything.
Visit yumello